An Inventive Start
It was the 1950's and Kiwi's Bert and Dawn Hansen were building their house. Bert couldn't find a reliable toilet valve, being an entrepreneur he invented one. This then lead Bert into developing a range of high performance Brass Foot and Check Valves. The design was patented and fast became the bench mark for industry standards and today the original design Bert created is used in a multitude of valves in hundreds of markets all around the world.
With the initial success of the Brass Foot and Check Valves, Bert and Dawn worked many long hours to keep up with supply. Their garage was the hub of their business with all the machining, assembling and packaging carried out there. In those early days Dawn remembers having to pack up the car and take all the fittings down to the railway station for distribution.
In the 1960's the range was expanded further with Bert designing and manufacturing a range of Brass Quick Couplings. However by the early 70's Bert and Dawn realised that plastic was the way of the future and re-developed the existing range of Brass Quick Couplings and Brass Foot and Check Valves in plastic. By the end of the 70's Bert and Dawn saw an opportunity to add to their range and designed and manufactured a range of Nylon easy to use "Cold Fit Pipe Fittings". Back then this completely changed the way Kiwi Farmers joined Alkathene pipe, "We had a few teething problems with the original cold fit range, mainly around the single barb being difficult to get past the hard pipe when it was cold and a 130kg farmer trying to tighten up a 25mm fitting with a 24" stillson on a -5 degree Southland winters day. Those were some fun learning times but we got those problems sorted, we should have labelled the fittings "Kiwi Proof".
In the mid 1980's some more enthusiasm and ideas were injected into the business when Carl Hansen (Bert and Dawn's Son) arrived from completing his engineering trades. Within a short period of time, Carl's experience in engineering and his desire to use the "right" technologies in manufacturing and materials added even more strength to the Hansen company. Bert and the team didn't sit still for long and in the late 1980's it was decided Hansen would design and manufacture a range of True Fit Threaded Fittings.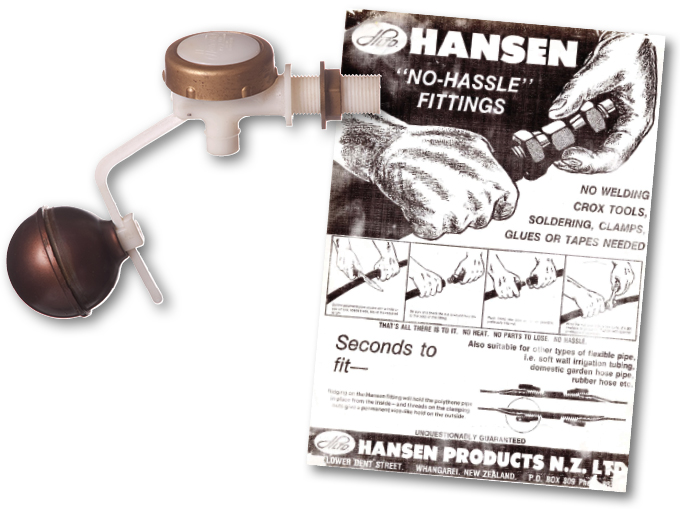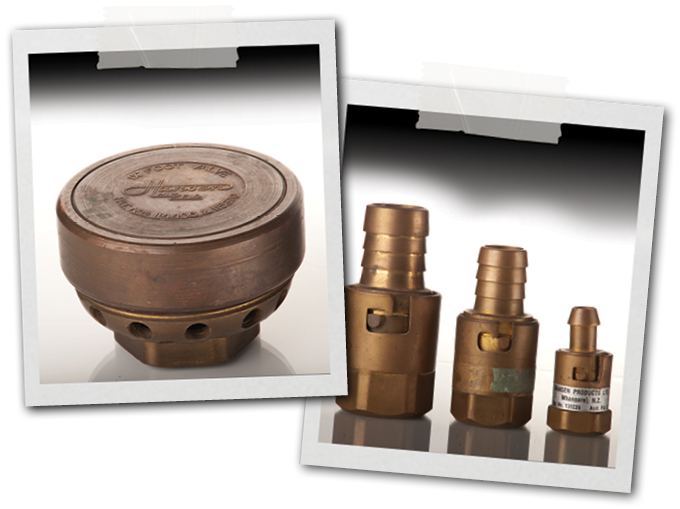 With the Hansen range of products growing rapidly, it was time to move out of the garage and into its own manufacturing plant to start injection moulding their products. This move was a huge investment and there were many sleepless nights in the Hansen households. The move proved to be the right decision and it wasn't long before Hansen products were being demanded from all over the world.
The 1990's saw the products develop a stronger following in New Zealand and Australia, with many of the original products having upgrades to high performance materials and the core ranges growing every year. "At one point it felt like we were adding fitting configurations every month" recalls Carl Hansen. In 1999 it was time for Hansen Products to move into even bigger premises. A building in Union East Street, Whangarei was found and the building underwent huge changes to house the manufacturing plant.
The turn of the millennium saw Hansen Products continue on the path of constant improvement; a sister company in Canada was established, Irripod was purchased, the Easy Fit range was updated and after much encouragement from the market our Full Flow Ball Valve was released.
2012

Hansen Products in-house Research and Design team develop several new products for release, the Level Alert Heavy Duty Tank Level Indicator, the Leveller Tank/Reservoir Valve, Superflo Piston Valve and the Maxflo Diaphragm Valve. At Hansen we believe the Superflo and Maxflo valves have become the next industry standard of High Performance Float Valves.
2013

Hansen released the Easy Fit Compression Fittings range designed specifically for joining Medium Density polyethylene pipe.
2014

Hansen released the compact Fastflo Trough Valve & the ingenious Han-Tool used to determine which Easy Fit Poly or Compression fitting will fit your pipe.
2016

Hansen released RRV
2017

MD Tapping Saddles
2018

Australian Rural Fittings Released
2019

Washdown Nozzles released
2021

Hansen released its new range of Easy Fit ID Compression Fittings to fit HDPE and LDPE Pipe. A couple months later they released a new range of IBC Tank Fittings for IBC Tanks/Containers.
All of these products have been designed for high performance whilst still staying true to Bert's original philosophy of "Keep it Simple".
After over 60 years in business, Hansen Products is extremely proud to be a New Zealand owned and operated business. We are continuing to design, manufacture and distribute Pipe Fittings and Valves of the highest quality around the world. Hansen has built a reputation for providing high performance, easy to use, simple products that deliver our customers "Best Installed Value".
The winning formula that has been applied to the product range since the 1950's has ensured a loyal customer following through the generations. With a range of over 1000 different products, loyal customers and a dedicated team, Hansen is poised for the new challenges ahead.